Butternut Ambrosia.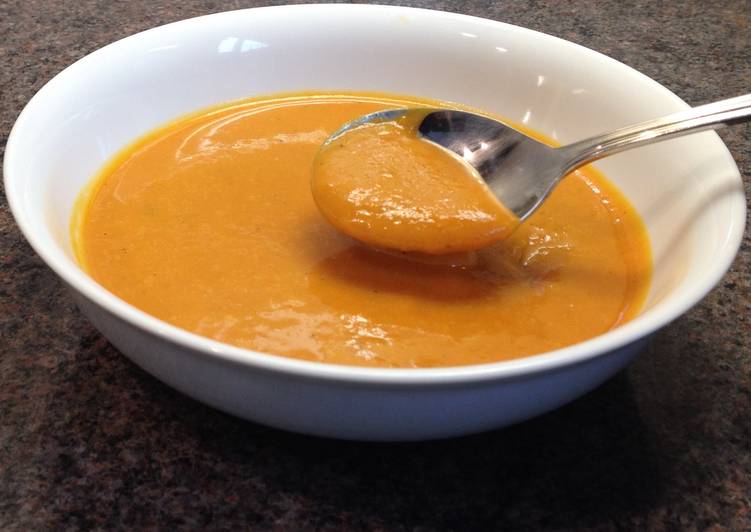 You can cook Butternut Ambrosia using 10 ingredients and 8 steps. Here is how you achieve it.
Ingredients of Butternut Ambrosia
It's 500 g of butternut squash (peeled and seeded) / 17½ oz ..
Prepare 1 of red peppers (seeded).
It's 1 of orange peppers (seeded).
It's 1 of onion large peeled (about 400 g / 16 oz. before peeling).
You need 500 ml of chicken stock / 17 oz ..
It's 150 ml of milk skim / 5 oz ..
It's 75 g of cheese low fat processed * / 2½ oz ..
Prepare to taste of pepper Ground.
You need of Spray2Cook " ( a word used to describe.
Prepare of low – cal . non – stick cook ' s oil spray.
Butternut Ambrosia instructions
Pre-heat an oven and a baking sheet to 180oC / 350oF / Gas Mark 4. Cut the Squash into strips (max width 1½ inch) and the Onion(s) into quarters. Spray the baking sheet with Spray2Cook and place the butternut squash and onion on this tray, spray the veg and then put the tray back in the oven..
After 20 minutes turn the squash and onion and re-spray with Spray2Cook..
After a further 20 minutes place the peppers cut into as large a pieces as possible (to aid skinning) on a second preheated (and sprayed) baking sheet and spray the peppers before putting these in the oven. Whilst doing this, again re-spray the squash and onions with Spray2Cook. Cook for a further 15 minutes. The squash should be soft and turning a sticky caramel-brown on the edges and the onions should be browning..
Remove the squash and onion from the oven and place in the preheated stock in a lidded saucepan..
Turn the oven up to maximum until the skins of the peppers wrinkle and begin to blacken. Remove the peppers and place in a polythene bag and leave to sweat for a couple of minutes. Remove the pepper one piece at a time and the peel should then come away easily. Add the skinned peppers to the stock..
Add the milk, cheese and seasoning. Bring back to the boil and then cover and simmer everything for around 10-15 minutes. Do not worry if the skim milk seems to separate, it will come together when liquidized..
Cool the mixture a little and place all the contents in batches into a liquidizer and puree completely. Once the puree process seems complete liquidize for about the same amount of time again. Serve immediately or chill/freeze and reheat later..
(N.B. the cheese is equivalent to 4 laughing cow extra lite triangles).
Photos of the Recipe: Perfect Butternut Ambrosia