Pork Paprika & Pepper.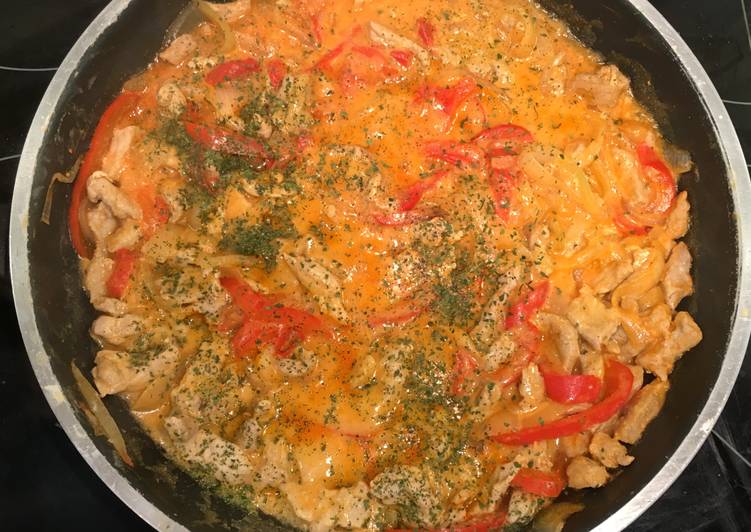 You can cook Pork Paprika & Pepper using 11 ingredients and 2 steps. Here is how you achieve that.
Ingredients of Pork Paprika & Pepper
Prepare 500 g of pork escalope (cut into cubes) / 17½ oz..
Prepare 300 g of white onion (sliced) / 10 oz..
You need 350 g of red peppers (sliced) / 12 oz..
Prepare 125 ml of vegetable stock ) /4¼ fl. oz..
Prepare 200 ml of crème fraîche (low fat) / 6¾ fl. oz..
Prepare 1 tablespoon of tomato purée.
It's 2 teaspoons of paprika.
Prepare 2 teaspoons of parsley dried chopped.
It's 1 teaspoon of garlic powder.
It's 1 tablespoon of cornstarch cornflour /.
You need of "Spray2Cook" (a word used to describe any low-cal. non-stick cook's oil spray).
Pork Paprika & Pepper step by step
Spray a fry pan with Spray2Cook and put on high to medium heat. Add the pork and turn regularly until browned all over. Whilst the pork is browning microwave the onion and pepper for 5 minutes. Add to the pork once it is browned..
Sprinkle over the garlic powder and paprika and add the purée and stock. Bring to the boil and then simmer for 3 minutes. Stir through the crème fraîche and blend the cornstarch with a little water (adding slowly) and then add the blended cornstarch to the pan as it just starts to bubble. Allow it boil before turning down to a simmer for 2 minutes or until the pork has softened and scatter with the parsley. Serve on warmed with accompaniments (see below).
Photos of the Recipe: Perfect Pork Paprika & Pepper